Email messages are still free to send out to your own list
We can easily set-up marketing automation with your emails.
How to choose an Email marketing firm
MailChimp recommends the following:
Your first decision is what type of services you need when it comes to email marketing. That information will help you determine whether you're looking for an interactive agency, an email marketing consultant, a deliverability expert or something else. Here's a basic rundown of services that agencies provide:
Strategic Consultation
Tell them your goals, and they'll give you a plan of action.
Marketing Campaign Management
They can take over the whole thing if you want them to. Just provide the direction, and they'll run your campaigns for you.
Creative Development
They'll write, format, and produce your emails. Pretty emails have to come from somewhere, and sometimes it's an agency.
Acquisition and List Optimization
They can grow your list using email best practices to increase revenue, while limiting bounces, unsubscribes, and complaints.
Vendor Selection
Vendors send out your emails. An agency will look at what your needs are and help you pick the vendor that will best meet them.
Deliverability
Content is essential, but it's also paramount to make sure everyone on your lists gets your emails on time.
Campaign Metric Analysis & Optimization
Metrics tell you how well your campaign is working. You can then tweak and optimize it as needed to reach your goals.
Integration and Customization
Your email marketing needs to be consistent with all your branding, both online and offline. It's also important for your marketing to work together across all platforms.
When you first make contract with an agency, ask to see an overview of what they offer. Some firms specialize in just one facet of marketing, so it's important to make sure they meet all your needs. Be specific about what you want—diligence is vital when picking which agency to work with.
Selecting email services
Sometimes, you may not be able to put your finger on exactly what your company needs. Time to figure that out.
When selecting an agency, you have to ask yourself some tough questions. Sit down with your team and have an honest discussion about where you are today—and where you want to be tomorrow—when it comes to marketing your business. You should then talk about how you can reach those goals over the next year or two. You don't have to spell it out day-by-day, but the clearer your vision, the better an agency can detail your prospective partnership.
Here are some tough questions to ask yourself and your team: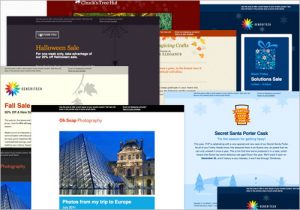 What's your overall marketing plan?
How does email fit in it?
What's working with our current email marketing? What isn't?
Should we start our campaign from scratch, or revise what we already have?
Do we need our own IT department involved?
Who else do we need to talk to within our company?
When should this start? And when should it finish?
What's our budget?
What's our forecasted volume per month? Per year?
What sort of return on our investment (ROI) are we looking for?
How will we measure success?
What are our biggest challenges to overcome in the next six, 12, and 18 months?
Once you hammer out some answers to these questions, write up a brief summary—or at least be prepared to talk about it